These gorgeous classic black platform pumps are a small slice of heaven right here on Earth! Once you get so used to them, you`ll never leave the house without the Nevaeh.
The cute bow at the heel cup makes them adorable. The upper part is layered with a luxe black leather. With the hidden 1 inch closed toe platform and the embellished 5 and a half inch heel they prove ideal for making a glamorous statement. And who says that heels are not comfortable? When you sleep your feet into the lightly cushioned man-made footbed you`ll realize that this Betsy Johnson`s Nevaeh – Leather Classic Black Platform Pumps are very comfortable.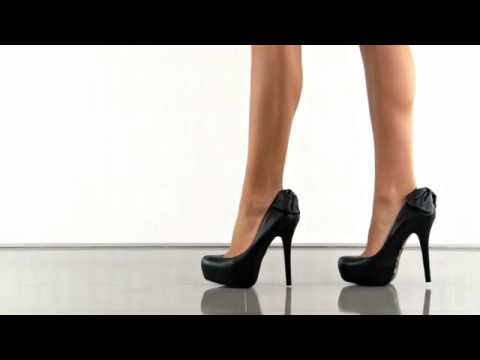 Video by www.heels.com
You can wear them in many ways, but the perfect casual combination would be : Black skinny jeans, white tank top and a black
blazer with some fun accessories and you are ready to start your day. But they are also here
to make you look glamorous for a night party along with the fun and flirty, backless little black dress with a gold sequin cowl from the shoulders down to just below the waist. Very sexy and stylish, right? Accessorize it with a golden bracelet and have all eyes on you wherever you go.
You may have a lot of pumps in your closet, but The Nevaeh – leather black platform pumps are the right ones you were always looking for. They are easy to combine with a lot of clothes and that`s why they are a must have item for every woman. They are literally shoes for every occasion. You can wear them every day, wear them night and day, wear them at work, go to fancy parties, make a stunning appearance on your date … you can`t make a mistake. And for sure you will have no regrets for buying them.